Intro to Surfing
Our programs promise to be fun, educational, and safe. Our leaders are certified lifeguards, trained and experienced in water safety. We can tailor our outings to cover standards, curriculums, and lessons for classes and school groups. For some outings, we partner with the very best local outfitters. We wear pfd's on most outings and can help set up swim lesson prior to your trip. Youth are in safe hands when the get on the water with Y2O.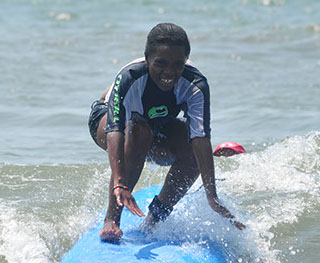 Beach Outing
Our best program for groups of all sizes , ages, and abilities. Youth will participate in a surf lesson, use cast/seine nets, comb beach for shells, bird watch, learn about barrier island & coastal eco-systems, and pick-up trash.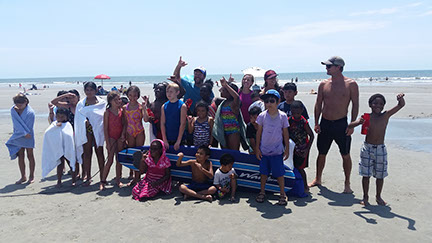 Middleton Place Kayak and Exploration
Perfect for field trips and large groups. We partner with Charleston Kayak Company for this program. Youth will participate in kayaking on the Ashley River and hiking around an abandoned rice field adjacent to the Ashley River. There is a Cypress Swamp available seasonally. Rich history and ecology make this our most educational outing.
Folly River Stand-up Paddle Boarding
Great opportunity to see dolphins! We partner with Charleston SUP Safaris and Flipper Finders for this program. Youth will participate in stand-up paddleboarding/kayaking on the Folly River and learn about estuaries, barrier islands, and coastal ecosystems.
Team Building and Group Outings for Adults
1 team building participant=1 youth to the ocean. We partner with local outfitters and event planning companies to customize a memorable team building experience for your company or group. Pick your outdoor activity (kayaking, stand-up paddle boarding, surf lessons, boat trips, nature excursion, etc.). Add a public service project (beach/river sweep, volunteer on youth outing). Add accommodation (cooler of libations, picnic, lowcountry boil, oyster roast, etc.) Tax deductible!
Y20 on the Road
Y2O is hitting the road in 2016! We are scheduling a tour of outings up and down the coast. The goal is to develop relationships in new areas and inspire people to open Y2O chapters. Please contact us if you can help in any way.